Speaking
Hire George Bentley for Your Next Speaking Engagement
Speaking and keynote address speaker
George Bentley is nationally recognized as a professional speaker, author, thought leader, and consumer advocate. For 30 years, he has been sought out by Federal and State agencies, corporations and organizations wanting to experience his unique ability to help improve personal and organizational health, happiness and vitality. He is an in-demand authority on relationship building, healthy aging, wellness, and happiness. George offers clients his ability to blend meaningful knowledge and thought-provoking information with practical, fun and effective learning technologies. Customized presentations are available for clients desiring audience-specific and unique content. .
Learn more about his experience, what colleagues have to say, or hire him to speak at your event.
What George's colleagues have to say: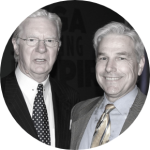 "I first met George in 1998. He has always been an inspirational thought leader."   
Bob Proctor, Nationally acclaimed author and speaker, star of the hit movie, "The Secret," and author of Beyond the Secret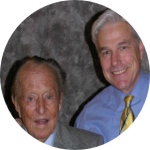 "George says the darndest things. Information is Power! George is really on a great mission to help educate and protect seniors…You should listen to George! I follow George's recommendations daily."
Art Linkletter lived to age 97, legendary host of TV show "Kids Say the Darndest Things" , national chairman for the United Seniors Association, and best-selling author of "Old Age Is Not for Sissies"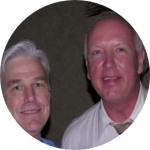 "There is such a huge need for what George Bentley has to offer! Our aging population is at great risk. George is one of those rare people who combine knowledge and passion to offer real help to people in serious trouble… He has healing hands!"
Mark Victor Hansen, public speaker and best-selling author of the "Chicken Soup for the Soul" series, co-author of "Make the Rest of Your Life the Best of Your Life"
"George, you did it! You inspired them! as you always do…and I was so proud of you for the mission that is yours, but that is growing to be shared by so many. Your personal story is still one that sticks in most people's minds, but it's your taking it to the next level of human development that captures their hearts! You could just feel the energy in the room raise about 10 notches…Thank you for all you did for us and we look forward to more in the future!"
Barbara Barton, NKBA National Conference Program Chair
"I had the privilege of sharing the speaker's line-up with George Bentley for a major trade event…I was so impressed with his poise and entertaining antidotes that kept our attention throughout his presentation… he maintained our interest in his topic with an effective powerpoint, real-life stories and testimonies from his customers and personal experiences… There was absolutely no doubt that George qualifies as an expert… I highly recommend George for any event seeking an enthusiastic and well-prepared speaker."
Sincerely,
Mitzi Beach ASID CAPS NCIDQ
"George Bentley was the keynote speaker for a large national conference. George was well prepared with a professional PowerPoint presentation. His topic was relevant and he was comfortable with the audience. He is a dynamic speaker, presenting factual information in an entertaining and energetic manner. George captured the audience with his opening remarks and kept their attention throughout his presentation. His appearance was professional and response to the event planners was always prompt. I would recommend George Bentley as a public speaker to any size audience.
Erik Listou, CGR, CAPS, CAASH, CGP, EPA/CR, LDST
Hire George Bentley for Your Next Event
Contact George Bentley About Your Speaking Engagement